.
Are you working on a presentation or a video? Most likely you will need a soundtrack to go with it. But of course, we don't want to use copyrighted materials which most people still do. Most likely, if you uploaded the videos in youtube or any social video platform using materials that violate the copyright laws, they will be deleted or be muted in just a matter of time. They also send you a message that it involved a third party material and take proper actions. That is why, many people look for royalty-free music to avoid such problems that could put their work to waste.
I am not an expert on the subject but I thought I'd share with you what I have learned in the brief time that I am putting the movie together. Let me tell you how this works in my own words. 😀
Royalty free music are compositions made by artists, available for purchase or use in exchange of crediting the artist or their website without the commitment of paying royalty fees which can be  a very expensive choice specially for independent filmmakers or individuals who simply enjoy video making. So in this case, either buy the music once, use it for as long as you want without paying a royalty fee or, a much better option, many artists are sharing their music for free. They only ask  people to credit them in their work by providing a link back to their website.
Let's cut to the chase. Below are some of the artists, websites, and companies that offer royalty free music. Please read the guidelines that each one has provided in their website as they differ from another. Be appreciative of the gift, and return it with respect. Enjoy!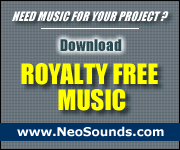 1. Neosounds – This is a company where we  purchased the soundtrack "It will come" by Julia Kladniew and "Perdition" by Erik Haddad. Great music selection. We were able to use the music several times throughout the film. Tip: find the different tempos and tunes in one soundtrack and use it in different scenes that fit. This way you don't tend to buy so many tracks while your existing ones are still useable. Go to>> www.neosounds.com
2. Magix Music Maker – Believe it or not, I also composed my own music! and I am a universe away from being a talented musician. I love playing guitar. I also like singing. But both seems to hate me. 😀 How did it happen? For those who know me personally. Don't laugh. But thanks to this wonderful software that I have discovered. Magix Music Maker is a software that is built in with lots of loops of different genre's that you can put together a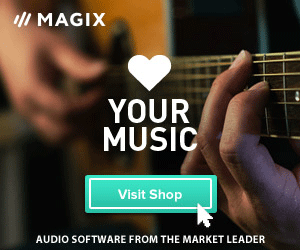 ccording to the mood that you'd like to create for your scene. I purchased this software for a very good price + bonus loops download.  It is a good investment for those who would be working with videos for a long time. The advantage of this is you don't have to keep on purchasing royalty-free music when you ran out of songs. Here you can create endless tracks and the piece is originally yours forever. The disadvantage is that it will require your time and a little understanding on how to use the software. Please know that those used for commercial purposes with MAGIX Music Maker 17 Premium and above which comes with sound pools, a  Audio Professional Unlimited license worth $199.99 has to be purchased apart from the software itself which is intended only for home/personal use. Yes. I bought the license and its a pain in my wallet but peace of mind and respect for other people's efforts is more important and I can freely create and sell music in the future, just in case.
Would you like to hear a sample of my work? Watch Chapter 1, near the beginning and the scene where the camera is following floresel and her children while going up the mountain and where the teacher "Merle" is being interviewed in Villavictoria. Instrumental songs that I was able to compose were the following: Beautiful Beginning, Following Floresel, Rough road, Sacrifice, and Understanding. I'll lhave the tracks available in the website later on. Just give me time to upload them. To check out the software, go to  >> www.magix.com
3
. Danosongs – He is a passionate and compassionate musician. I love his spirit and understanding of life. He lets people use his music for free. Just credit him in your work. I sent him the link to watch the movie Beauty in Darkness and he replied with his blessings specially for those families who are in the dark. He even thanked me for using his music. One of my favorite track from him is the one called "I'm gonna go" found in the later part of the movie. Other songs that I have used are "Imagine Magenta" and "Joker". Thank you so much Dano! Go to >> www.danosongs.com
4. Alexander Blu– I also like this musician who is from Serbia.  I sent him an email to ask permission first and he wholeheartedly gave me a blessing as a simple way to help our brothers and sisters who are in the
dark to have the opportunity to be given a voice. Music that I used for free in exchange of crediting his work are the following : "French Story", "Intro", "Close to you" and "Time Traveller". He loves photography too which he posted on his website as well. God bless you Alexander blu. Go to >> www.alexanderblu.com
5. Tom Cusack – He also gives his music for free. He believes that copyrighting is wrong.  Another compassionate musician 🙂 Just credit him with your work. When I showed him the link to watch the movie Beauty in Darkness, he absolutely loved it and added the word 'amazing" in his reply. Tracks that I borrowed from him are those of epic, emotional and quirky genre. He has other stuff too that you can learn from his website. Keep it up Tom. Go to >> www.freemusicforvideos.com
6. pacDV – is a company that produce music for filmmakers, students, sound designers and multi-media developers since 2001. I believe they do have a section in their website where they sell royalty-free music just like neosounds. But at the time, I used their free track with the title "Gentle thoughts". When I checked back lately, they now have free downloadable loops, free stock images, and free effect clips too. So better check it out. Go to >> www.pacdv.com/sounds/free-music.html
7. Free Sountrack – This is a conglomeration of various artists who submitted their work in this youtube channel. For each video, a link is provided below to download the music. Music is free to use. "By the people, for the people.". As it says in their profile. Artists that I have picked are: Arcticyoshi 45, Dexterboy124 and Valik Sparks. Each artists has their own youtube channel as well. Go to >> www.youtube.com/user/FreeSoundtrack
8. Free Soundtrack Music – this is a company that offers free music as well. They do have a section for free download. And a section for purchasing music for a very low price. Go to >> www.freesoundtrackmusic.com
A tip for organizing the downloads to avoid mixing them together, create a folder that are named after their website and download the music in their respective folders. This is to help you remember who to credit the music to. There are so many websites that offer royalty free music apart from what were mentioned above. If you find one, I would be glad to add them here. The best things in life are for free, as they say. But please don't forget to pay respect and appreciation by giving a credit or linkback to their website. Many of them are passionate and hard working artists, and they do deserve some credibility..
.
Comments
comments
Powered by Facebook Comments