.
[youtube]http://www.youtube.com/watch?v=pBrtq0vdjNQ[/youtube]
I'm a WINNER because I've known DEFEAT,
HAPPY because I've known SORROW,
GENEROUS because I've known HUNGER
and KINDNESS as I've experienced CRUELTY.
Life is worth living and beautiful as I've known HOPELESSNESS and DARKNESS
-Julie Cox
Julie Cox carved out an amazingly fruitful life after overcoming a plethora of obstacles which would have broken a lesser person. In her new book, I Ordered My Future Yesterday, Julie recounts the trials and tribulations she's faced,from being raped twice and left for dead,living in extreme poverty, experiencing the death of various loved ones,and giving up for adoption the baby she had after being raped a second time.
Julie recounts the ups and down of her life from living for two years scavenging  as a semi-orphan amid a garbage dump at the U.S.Naval Base at Subic Bay to moving from the Philippines to the United States.
Upon arriving in the U.S.,she began a series of odd jobs which eventually led her to a successful sales career at a Fortune 500 company.
During this time, she was also busy building her dream resort and academic training center in the Philippine islands one step at a time.And now, through sheer hard work and crafty planning, she's halfway toward her goal of becoming financially independent.
 She is a woman of great courage and perseverance working her way up to becoming an entreprenuer and a proud owner of "Fil-Am Garden Resort" located in the Philippines. Julie is a philanthropist and environmentalist.
She lives in New Jersey and divides her time between the U.S. and Philippines.
Even if you're broken, negative, bitter, depressed,
nothing can stop you from finding your destiny!
Her book is available in amazon. Click below:
www.iorderedmyfutureyesterday.com
Her book is also available in Barnes & Noble.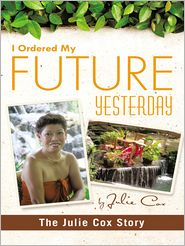 Also availalbe in National Bookstores in Philippines
Read BOOK EXERPTSof I Ordered My Future Yesterday
Read BOOK REVIEWS of I Ordered My Future Yesterday
Connect with Julie Cox via Twitter and Facebook
Watch Julie Cox Interview with Boy Abunda of The Bottomline
Below is a video of Fil-Am Garden Resort which Julie Cox eventually owned after overcoming the challenges in her younger years. She is still fighting battles as far as I know, but she does it gracefully.
Please visit Fil-am Garden in your next trip to discover the cleansing power of nature.
[youtube]http://www.youtube.com/watch?v=2kDx9dSPn2Q[/youtube]
Grateful for tita Julie Cox for taking time to visit and meet the cast of Beauty in Darkness Movie.
Comments
comments
Powered by Facebook Comments